研究活動 活動報告
第5回公開講演会「四国遍路: Perpetual Pilgrims of the Shikoku Henro: Examples and Implications of Spiritual Lives on an Unending Road」実施
2018年11月16日
[日時]2018年11月16日(金)、17:00~18:30
[会場]南山大学 人類学研究所1階会議室
[主催]南山大学 人類学研究所
[講師]John A. Shultz 氏(関西外国語大学外国語学部准教授)
[司会]ドーマン ベンジャミン(南山大学人類学研究所)
※使用言語は英語です。
[報告]
In the 5th public lecture of the Nanzan University Anthropological Institute, John Shultz of Kansai Gaidai University presented on the topic of "Perpetual Pilgrims of the Shikoku Henro: Examples and Implications of Spiritual Lives Spent on an Unending Road."
Before outlining his research, Shultz offered a provisional argument that the current impasses in the field of pilgrimage studies "demand a back-to-basics return to the scientific method and a clear delineation of analytical variables and constants."
Shultz presented some historical and recent ethnographic data dealing with a number of "perpetual pilgrims" of the Shikoku henro (pilgrimage) and discussed the reasons for their desire to keep returning to do the pilgrimage, a phenomenon that has been described as Shikoku byō 四国病 or "The Shikoku Sickness" (this could also be termed "addiction to the pilgrimage"). His discussion included the cases of two female henro leaders, professional pilgrims (tour guides and those who are paid by others to complete the pilgrimage on their behalf, also known as proxy pilgrims), group-centered repeaters, international repeaters, solitary pilgrims traveling and sleeping in their cars, and so-called "life pilgrims," who include homeless itinerants or semi-itinerant walkers.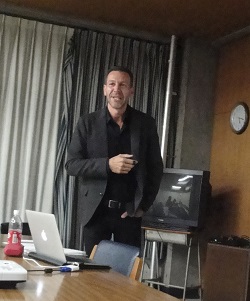 John A. Shultz 氏